Widgets
Calendar
Transform your Google calendar into a widget for your dashboard. Keep all your meetings in one convenient place.
The Calendar Dashy widget can be used on its own, or integrated with Google Calendar or Microsoft Outlook. Create events, add video links to events, and never miss a meeting again.
---
How does the Calendar Dashy widget work?
Another great widget for the organized or forgetful. The Calendar widget can be used by itself to help keep track of appointments and events, or it can be seamlessly synced to Google Calendar or Microsoft Outlook. Simply click the icon at the bottom of the widget, sign in to the Google or Outlook account you wish to sync with, and allow Dashy access to sync the account with your dashboard.
The settings option within the widget provides a few handy options to customize reminders, select how far out your calendar will display, and will also allow you to add or remove Calendar connections.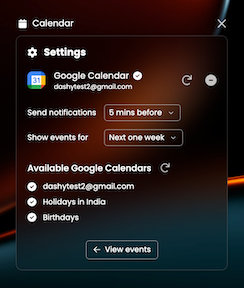 ---
Join the Dashy community and start being more productive with the Dashy Side Panel! Check us out on LinkedIn, Twitter, Youtube, and Instagram. Download the extension HERE!