Widgets
Settings
The widget for customizing your Dashy experience. Change widget sizes, light/dark mode, hotspots, and more.
The Settings widget is the backbone of your Dashy customization experience. Adjust and manage a variety of options using this widget.
---
How does the Settings Dashy widget work?
There are eight different tabs within the widget, the first of which is Customization. Here you can change a number of different display settings including Blur which alters the transparency of widgets, as well as Size which can adjust the size of your widgets so your dashboard looks and feels the way that you need it to.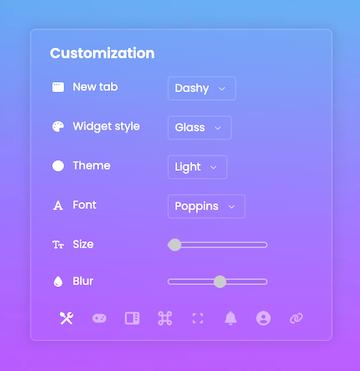 ---
Up next is the Dock tab. From here you can toggle the visibility of a number of features included the motivational quote, the dock, Dashy Chat, the widget explorer, and other options.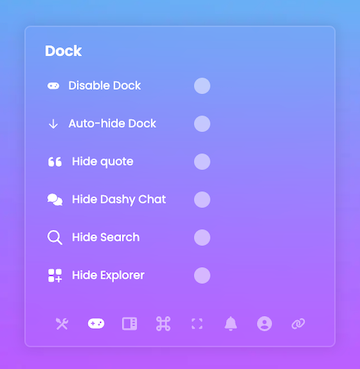 ---
The next tab is for adjusting some visual settings for your side panel extension. In similar fashion to the Dock tab, it has some features that can be toggled on or off for your Dashy Side Panel.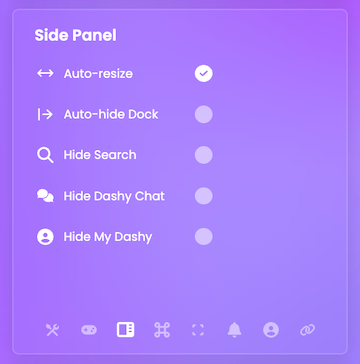 ---
The next tab controls Hotspots. Here you can customize certain areas of your dashboard to perform a command with a single click. You can set a website to open, open a specific widget, or other things like changing the Dashy background. Utilizing these Hotspots can help keep your dashboard and tab bar tidy while providing quick access to distracting websites that tank your productivity.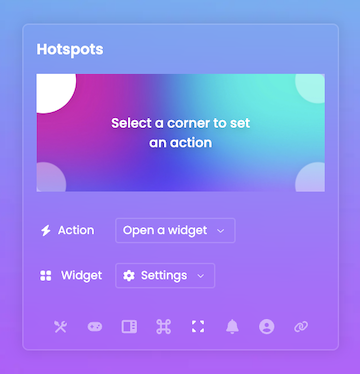 ---
On the next tab you can select the settings for notifications from Dashy. You can opt to only receive them within the dashboard itself, turn them off, or enable Dashy to notify your OS directly.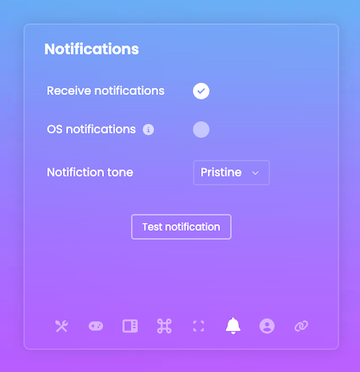 ---
Next is the Profiles tab which allows you to create and manage different Dashy's so you are able to keep your work, school, personal, or super private dashboards separate and organized. You can also add a pin/password to keep that top secret dashboard under wraps.
---
The last tab is Integrations and allows you to manage the different account syncing options available throughout all of Dashy from one convenient location. More integrations are in the works, so this tab will come in quite handy in the future.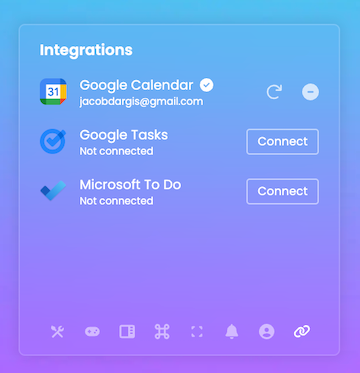 ---
Join the Dashy community at DashyApp.com and interact with the team on LinkedIn, Twitter, YouTube, and Instagram.