Widgets
To-Do
To-Do list widget that can be integrated with Google Tasks or Microsoft Tasks.
The To-Do Dashy widget lets you create tasks and subtasks for your day. Integrate with your Google Task or Microsoft To-Do accounts.
---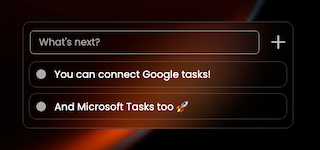 How do I use the To-Do Dashy widget?
Are you one of those people who thrive on the dopamine reward for checking an item off your list? Or maybe you are terribly unorganized and need some help staying on task. If so, the To-Do widget is perfect for your Dashy. On the lower left of the expanded widget you can create and label a list. Once a list is created you can add tasks, subtasks, and even add notes and set due dates. Once you complete a task you can check that item off and send it to its smelly retirement home in "completed tasks."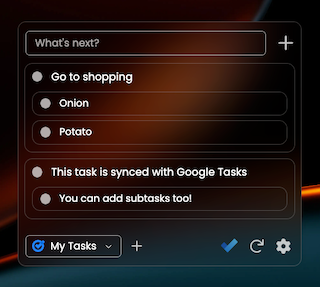 You can have a number of different lists to keep organized by project, job, or activity. In the widget's settings you can manage which lists are accessible in the drop-down menu. You can also sync the app with your Google Task or Microsoft To Do account through the icons at the bottom of the widget or through the settings. This integration can help keep your browser nice and tidy by keeping things all neatly stored away in your own home dashboard.
---
Get a 15-day free trial and try out the To-Do widget and all of our others at dashyapp.com!