Widgets
Voice Recorder / Screen Recorder
Record your screen or voice with the click of a button. Turn recordings into MP3 and MP4 files.
The Voice Recorder and Screen Recorder Dashy widgets allow you to record your computer screen or sound. Quickly create MP3 and MP4 files to share.
---
How does the Voice Recorder Dashy widget work?
With this handy widget you can create your own MP3 sound files with the click of a button. Select your audio input device from the drop down menu, and when you're ready to let out your heartiest yodel press the microphone icon to record.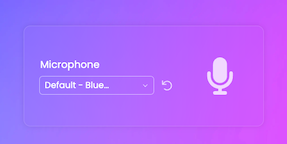 ---
How does the Screen Recorder Dashy widget work?
With the Screen Recorder widget you are quickly and easily able to provide video of whatever you need to share with coworkers, friends, or PUBG teammates.
Add a countdown to have a delay before your recording starts, chose whether to include audio or not, and press the camera button to record. Once you press the camera you will be able to chose which tab, window, or screen to record. Press "Share"  to start recording your presentation, show a coworker something remotely with ease, or finally prove to grandma that you CAN beat Spider Solitaire without cheating.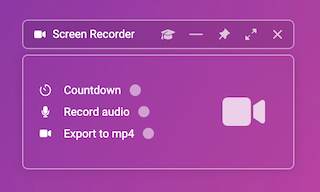 The most recent addition to the Screen Recorder widget includes an option to export your recording as an MP4 file.
---
Join the Dashy community at DashyApp.com and interact with the team on LinkedIn, Twitter, YouTube, and Instagram.